"I believe books are an experience, and I write stories to transport
readers to the endangered people and places of the world."

Holly Lynn Payne
Barnes & Noble Discover Great New Writers book, The Virgin's Knot follows the extraordinary life of Nurdane (Noor-dana), the famed weaver of Mavisu. From her remote mountain village in southwestern Turkey, she creates dowries for young brides: dazzling rugs that are marvels of shape and color, texture and light. Her unique rugs possess remarkable healing qualities that have inspired local legend, but it is her hands that are at the heart of her mystery. An artist's hands. A virgin's hands.

An extraordinary series of events drives Nurdane to question the limitations of her faith and culture as she is caught between the cost of remaining pure in body and spirit...or risking everything for the chance to live a loving life.
Imbued with the history and lore of Turkish culture and tradition, The Virgin's Knot chronicles a young woman's journey from innocence to knowledge and loneliness to love. Also published in the UK, Turkey, Serbia, Bulgaria, Greece and the Netherlands.




 
"[To be] savored like the dark intensity of Turkish coffee."
San Francisco Chronicle
 
"A thoughtful, tempered debut… Payne keeps the story simple, elemental, and reserved,
emphasizing the timeless quality of the tragic tale… a well-crafted, meditative piece."
Kirkus Reviews
 
"Creates an almost mystical tableau."
The San Jose Mercury News
 
"Every page of The Virgin's Knot is a tightly woven and bountiful gift to readers.
Like all who lived in her Turkish village, and two exceptional men,
I fell in love with the remarkable weaver and her magic carpets."
Diane Leslie, author of Fleur De Leigh's Life of Crime
 
"Infused with poetry and perfume, The Virgin's Knot is that rare thing:
a soulful page-turner. Holly Payne is the new Scheherazade!"
Laurie Fox, author of My Sister from the Black Lagoon
 
"The hearts and minds of today's observant Muslim women are as hidden from us
as their faces. In her novel The Virgin's Knot, set in the inaccessible reaches
of the Taurus Mountains, Holly Payne unveils a world the casual
tourist never sees, a world virtually unchanged for a thousand years."
Jacqueline Park, author of The Secret Book of Grazia Dei Rossi
 
"A thoughtful, tempered debut… Payne keeps the story simple,
elemental, and reserved, emphasizing the timeless quality
of the tragic tale… a well-crafted, meditative piece."
Kirkus Reviews
 
"A beautifully written and evocative fable. . . . An entrancing blend of myth,
history, and religious feminism that results in a tale as compelling as it is elusive."
Booklist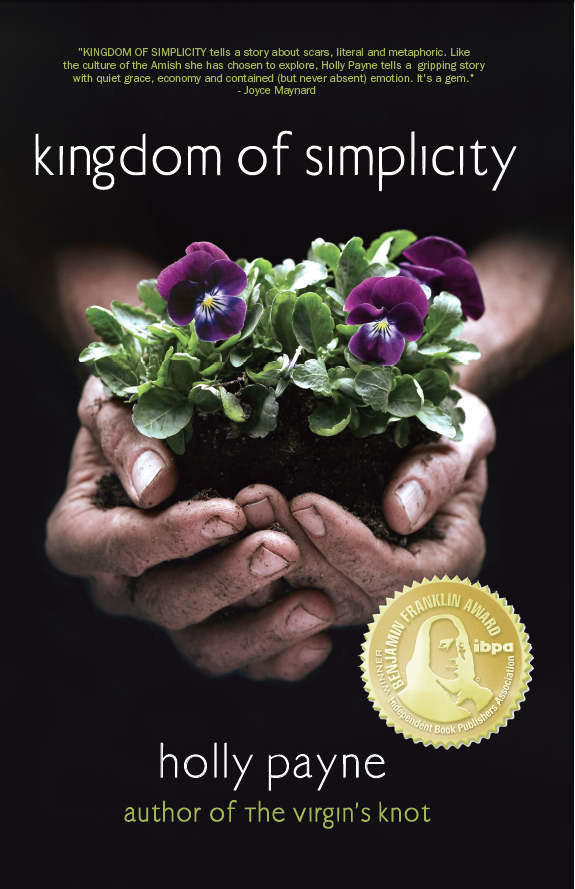 At the age of 22, author Holly Payne was struck by a drunk driver and left unable to walk for nearly a year. The driver wrote a letter, asking for forgiveness but rather than respond with a letter, she wrote him this book, inspired by the Amish practice of forgiveness.

In Kingdom of Simplicity, Payne, a native of Amish Country Lancaster, Pennsylvania, invites the reader into the world of Eli Yoder, a misguided Amish youth, who, after losing his family in a tragic accident, has struggled with forgiving the perpetrator. True to Amish tradition, everyone he knows has moved on with their lives except him. Shamed by his unwillingness to forgive, Eli leaves home during rumspringa, the time of 'running around' for Amish youth before they accept their faith, and searches for acceptance from the Outside World.

Written in simple, striking prose, Kingdom of Simplicity paints a detailed portrait of Lancaster County, Pennsylvania its countryside, its markets, and the inner-workings of its homes giving the reader an authentic perspective on the Amish that's rare in literature. For anyone who seeks forgiveness or is confronted with the choice to forgive, Kingdom of Simplicity is an invitation to live from the heart and heal.
Winner of the Benjamin Franklin Award and Grand Prize from Writers Digest and nominated for a national
book award in Belgium, Kingdom of Simplicity has also been published in the Netherlands, Taiwan and China.
 
"Kingdom of Simplicity tells a story about scars, literal and metaphoric. Like the culture
of the Amish she has chosen to explore, Holly Payne tells a gripping story
with quiet grace, economy and contained (but never absent) emotion. It's a gem."
Joyce Maynard
 
"Holly Payne has graced us with a guide to forgiveness through
the mechanism of an enjoyable and well-written story. Rich characters
and compelling insights allow us to understand and hopefully
use the peace her protagonist struggles to find…"
Frederic Luskin, Ph.D, director of Stanford Forgiveness Projects
 
"An unforgettable tale of loss, hope, and redemption that establishes Holly Payne
as one of our finest literary fiction writers . . . Eli's journey resonates with our
human need to find meaning in an often incomprehensible world."
Christopher Gortner, author of The Last Queen (Random House)
 
"I marveled at the depth of research and felt completely immersed in the culture
and customs of the Pennsylvania Amish. With persistently graceful prose,
Holly Payne builds a world that we are heartbroken to leave
when the story ends. A beautiful, literary treasure box."
Erika Mailman, author of The Witch's Trinity (Random House)
 
"Payne takes us into the exotic, strange world of the Amish to explore
the universal nature of forgiveness. Eli Yoder is a young man born with
a disfigurement common to his community ­– webbed hands – but who
carries a deeper disfigurement in his heart – an inability to come to terms
with a tragic accident and the unknown man who caused it. I found myself
rooting for Eli, and I was taken to the place where the best books take us —
into my own heart, wondering what on earth I would do if I was in his shoes."
Caroline Paul, author of Gutsy Girls, East, Wind Rain and Fighting Fire

"Holly Payne's Kingdom of Simplicity is a classic tale of the
redemptive power of forgiveness. Eli Yoder will capture both the readers heart
and their compassion as he struggles to come to terms with
the trauma of his past. Payne's skill as writer makes KINGDOM OF SIMPLICITY
irresistible and Eli's story will remain with her readers for years to come."
Kathleen Caldwell, owner of A Great Good Place for Books
 
"I loved this story. I sat in the middle of the Philadelphia airport reading
the end of the book in tears. My heart just broke for Eli Yoder page after page.
How misguided we are in our youth, or even as adults, when we make
assumptions about our identities and the way others perceive us.
Kingdom of Simplicity is a gift to share with abundance."
Rosanne Selfon, President of Women of Reform Judaism
Holly Payne's spellbinding tale brings the unparalleled poet, Mevlana Rumi, to life, and transports readers to the enchanting world of 13th century Persia. Simply but elegantly told, the story unravels the mystery surrounding a legendary orphaned girl, who discovers her gift of turning roses into oil. Named after the flowering rosa damascena, the girl reluctantly assumes the role of a living saint for the miracles she performs—longing only for one that matters: finding her mother. Deeply wounded by the separation since birth, Damascena undergoes a riveting transformation when she meets Rumi and discovers the secret of the rose.

Imbued with rich historical research and inspired by the devastating disappearance of Rumi's most lauded spiritual companion, Shams of Tabriz, Holly Lynn Payne has courageously opened herself to receive Rumi's teachings and offer a timeless love story. Inspiring and magical, the story of Damascena transmits the wisdom of the heart, inviting us to transform our pain into love.


 
Damascena is a stunner. Holly Payne takes us into the yearning at the
heart of the mystic's search. She turns the Sufi quest for connection
with God into a human drama that is both moving and soaring.
Tamim Ansary, author of Games without Rules:
The Often-Interrupted History of Afghanistan

 
This is one of the most gorgeous novels I've ever read. Payne's research
was so thorough. It makes me want to learn more about the dervishes,
their religious practices, and about Rumi and his achingly beautiful poetry.
The themes of forgiveness, spirituality and all the different
forms of love resonated with me on every page.
Laura Marquez, Emmy Winner and
former ABC News Correspondent
Holly Payne has deftly captured the magic, beauty, and ecstatic
energy of the Sufi's ancient sema dance with her story about a girl, Damascena,
whose life transcends her own world, and ours. The prose transports the reader
creating astonishing characters and at times, a thriller-like the plot, carrying
us into a world that is part hallucination and part real as Payne
weaves in themes of loss, beauty, devotion, evil, struggle, magic, and, ultimately love.
David Ewing Duncan, best-selling author of Experimental Man

Damascena is a captivating read, with a beautifully satisfying ending.
In her meticulously researched novel, Holly Payne's expertly crafted prose
captures not only the souls of her characters but the essence of Rumi's
wisdom: that life's shattering experiences can break our hearts open,
ultimately compelling us to receive the love intended for us. I loved this book.
Kristen Harnisch, author of The Vintner's Daughter
Holly Payne lives inside her characters. Seeing through their eyes and
feeling with their hearts, she illuminates the soul personality in each
portrayal. Ms. Payne is an intuitive writer who lets life rip through
the pages. Damascena is storytelling embedded with timeless wisdom.
Francesca McCartney, PhD, author
Body of Health: The New Science of Intuition Medicine®
Founder, Academy of Intuition Medicine® & Energy Medicine University
Read Damascena! Love will come alive for you in the life of Rumi.
Holly Payne is a wildly gifted writer serving the great cause of
love with discerning devotion, insight and lyrical prose.
Dr. Marc Gafni, author Your Unique Self,
The Radical Path to Personal Enlightenment
 
Holly Payne's latest novel touches Jelaluddin Rumi's essential beauty within
the fragrance of 13th century Turkey and the rich tapestry of his life as
a mystic, poet and honored scholar. Payne exposes the very human challenges
Rumi encountered as he grew into one of the greatest poets of all time.
Murshida Mariam Baker, author of Woman as Divine: Tales of the Goddess
senior teacher, Sufi Ruhaniat International and the Mevlevi Order of America
The Sound of Blue takes readers on an exquisite and soulful journey into a rare part of the world, exploring the healing power of music in the lives of three strangers during the last Balkan War. Sara Foster has left America for the adventure of a lifetime-teaching English to the elite of Hungary, but ends up teaching in a refugee camp instead and falling in love with one of her students, a celebrated synesthete composer. When he mysteriously disappears from the camp, Sara finds herself crossing the border into his war-torn homeland, determined to return the musical masterpiece that he has left behind. In a perilous journey that takes her to Dubrovnik, a magnificent stone city on the Croatian Riviera, Sara meets Luka, a troubled drummer boy, who's captivated the town's attention and heart and who holds the secret to the composer's fate and her own. Bringing to life a world that readers seldom have the opportunity to see, The Sound of Blue reveals poignant truths about the quests for refuge we all pursue.
"Payne employs flourishes of figurative language
and poetic musings on the nature of refuge and memory."
Booklist
 
"Against a background of stark wartime imagery, Payne laces
her tale with poetic musings on the healing and redemptive power of love."
Deborah Donovan, American Library Association
 
"Holly Payne's greatest achievement in "The Sound of Blue" is to move the
story beyond the never-ending volleys of who-did-what-to-whom into a
realm where the only thing that really matters is not whether
her characters are Serb or Croat but that they are refugees."
San Francisco Chronicle
 
"I feel like I know Luka as well as Payne does because I am a "Luka." Like every
character in Payne's novel, I understand what it means to be a refugee,
and how we are all survivors of the assembly of the hurts and slights that define us.
Payne's insightful and vividly detailed story reminds us of our common
daily struggle to ensure our triumphs outpace our disappointments."
David Breshears, Everest mountaineer,
cinematographer, author of High Exposure
 
"Here is a courageous, compassionate new voice filled with
elegant and assured prose. Payne is a masterful storyteller who proves
again to tackle ambitious subject matter with great delicacy."
Ishmael Reed, winner of the McCarthy Genius Award
 
"The book's heart matches its author's – expansive and exploding with passion.
Payne's understanding of music, especially rhythm, rings true on every page."
Liberty DeVitto, drummer of The NYC Hit Squad
and formerly of Billy Joel
 
"With Holly's intimate and poetic writing, book reader groups
can comfortably travel to the tension of unfamiliar places…."
Rachel Jacobsohn, Association of Book Group Readers
and Leaders and author of The Reading Group Handbook